Posted in
Uncategorized
on May 22nd, 2015 by Rick
Our first day of hiking started out with a visit to Rosh Hanikra, on the coast right up against the border with Lebanon, or at least with the UN patrolled border zone with Lebanon. After a brief stop at the border fence (from which we saw a couple of UN vehicles exit into Israeli territory) and a short explanation of the local geology, which hopped on the cable car that took us to the grottoes of Rosh Hanikra. The grottoes are natural caves worn into the limestone cliffs, which have had some walking tunnels for visitors added. Really, spectacularly, beautiful.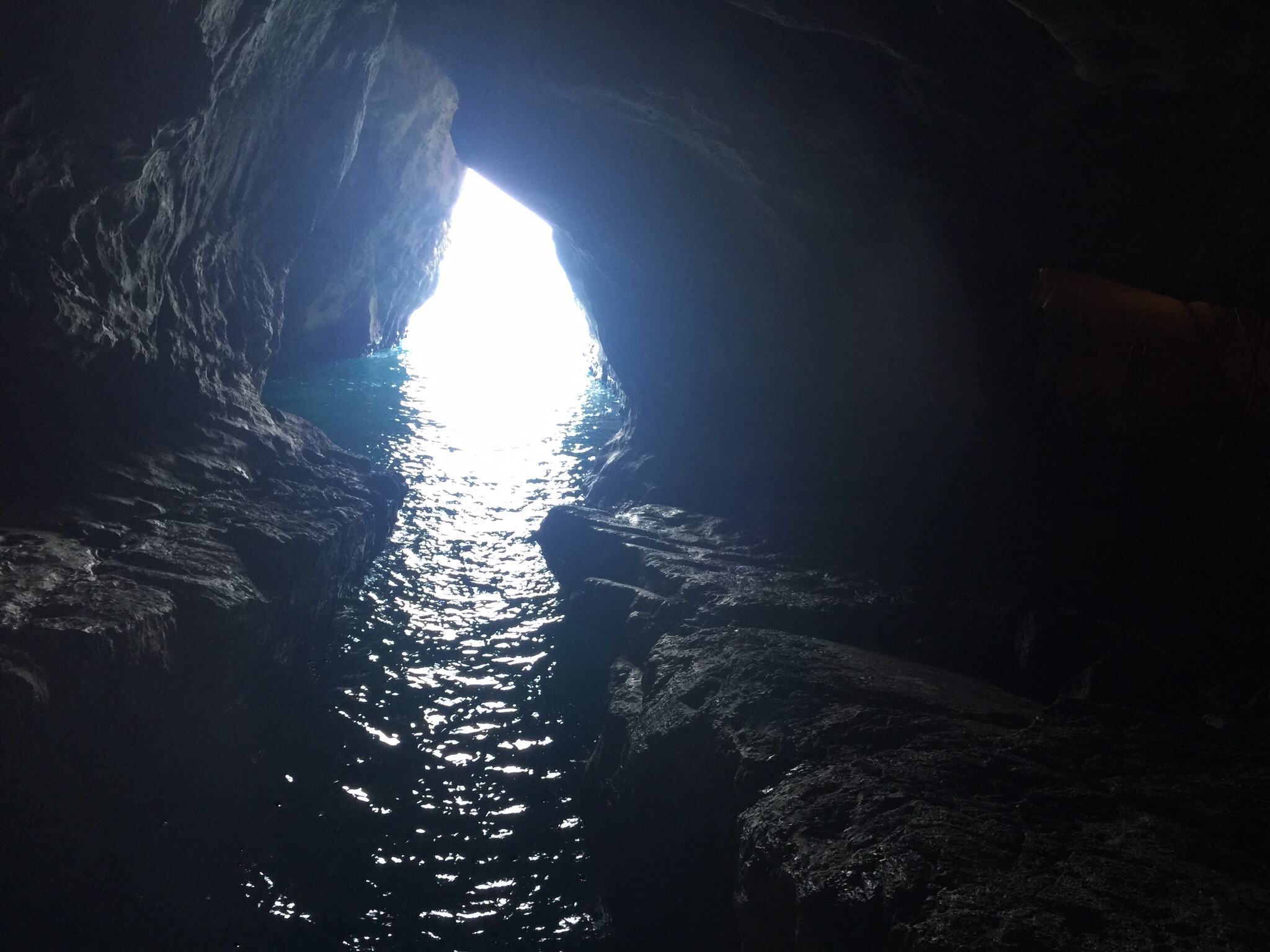 Inside the grottoes at Rosh Hanikra
During World War 2, the British built a rail line from Egypt to Turkey to transport materiel free from sea-going attack and for the additional speed and efficiency. They built tunnels through the cliffs of Rosh Hanikra, as well as bridge between two of them (now destroyed). In one of the train tunnels (the rails are still there in the floor), there is a small theater set up to show a movie about the natural and human history of the site. The screen is mounted on the wall constructed to close the tunnel at the border with Lebanon. Huh.
Exiting Rosh Hanikra onto the beach at the southern end of the complex, we started our first, warm-up hike–5 miles down the beach to Achziv. Walking on sand in hiking boots is an excellent way to stretch the calf muscles. I enjoyed very much when we stepped off the beach onto the road. Like floating on a cloud.
Soon we arrived at the descent into the dry riverbed of Nahal Yechiam. Here is where I learned, or really was reminded, that while I am strong and able to traverse reasonably rough terrain, being blind makes me extremely slow compared to other hikers. For the rest of the week, I was definitely the guy at the back of the pack. Well, me and Eliana and the sweeper guide for most of my days of hiking, Maurice. (Also, for several of the hikes, the youngest member of the group, Sam, who volunteered early on to help with guiding me. Sam's a mensch.) On the rocky terrain of the riverbed, I needed someone at all times to let me know where to place my hiking poles (the best thing I bought in preparation for the trip, hands down–without them, I couldn't have done half of what I did) and, by extension, my feet. It was a physical and mental challenge (but mostly mental) for all of us. AFter 3 or 4 miles in the riverbed, we met the bus and headed back to Akko to clean up, eat, find out what the next day's hike would be, and crash.
On Day 2, we will definitely need the water shoes.