We finally made it to Israel early Tuesday morning! The journey redo was not entirely without problems. The flight scheduled for 11PM Sunday, didn't take off until nearly 1AM. First, we couldn't board the plane until the catering truck delivered and loaded the meals for the flight. The passengers at the gate nearly revoted, and the poor BA gate agent was brought to tears. I felt badly for her.
When pre-boarding started, we were met by the redoubtable Hugh, the Cabin Service Director, and ushered into the little pre-boarding lounge at the top of the BA jetway. He'd been very nice to us the previous night, so Eliana had written a little thank-you note to him and the rest of the crew. He seemed quite touched that someone would do this, and hurriedly wrote on our boarding passes and handed them back to Eliana. After he walked away, Eliana leaned over to me and quietly whispered "You're welcome." Seems that some of the business class passengers from the previous night had made other arrangements, and there were a few seats empty there, so he'd just gone ahead and given us an upgrade. BA business class is a damned fine way to travel for 8 hours. I've heard that first class is even swankier, but that level of luxury probably would have made my head explode. As it was, I was gob-smacked by the gap in comfort and service between what we paid for and what we got. Since this was BA, let me put it this way: my outer Labour voter was appalled by the astonishing class inequity, but my inner Tory was certain that we deserved to travel like this. Forever.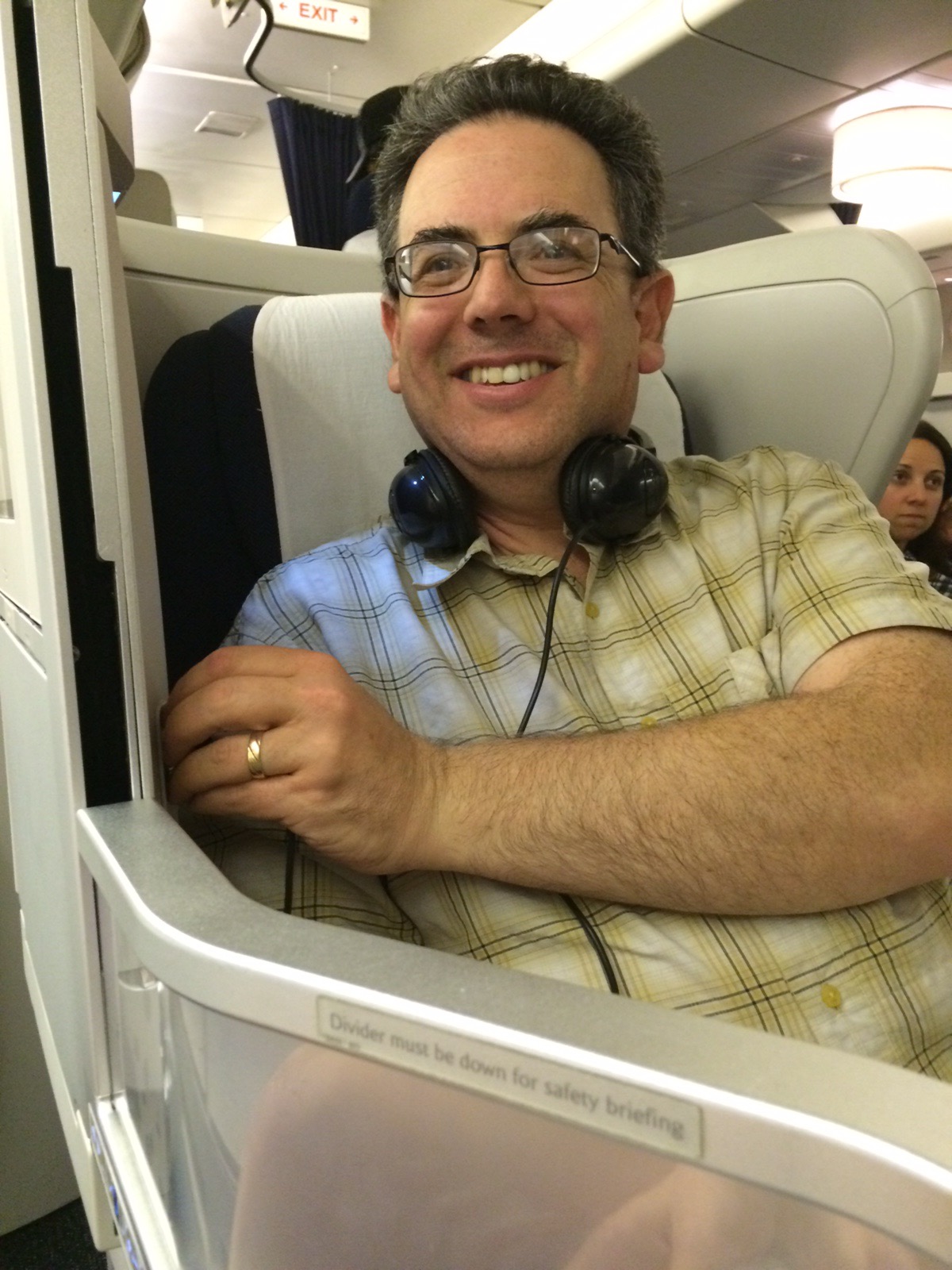 Yes, I look a little manic. The luxury is about to give me apoplexy.
Because of the change in schedule, our 10 hour layover in London turned into about 6.5 hours. Getting through UK Border Control and onto to the Heathrow Express went pretty quickly, so we ended up with about 3 hours in central London. Not enough time for much, but we managed to have a little dinner in Covent Garden, then walked through Trafalgar Square down to Westminster before hopping the Tube back to Paddington and there to Heathrow.
The 4 hour flight from London to Tel Aviv in coach was a bit of a comedown, frankly.